Pfaff Ambition 610

Pfaff Ambition 610 Command your creativity with the PFAFF? ambition? 610 sewing machine. Durable technology and artful operation make this machine stand out from the crowd.



Out of Stock
Pfaff Ambition 620

Pfaff Ambition 620 Discover the difference of enduring precision in the PFAFF? ambition? 620 sewing machine. With intuitive functionality and limitless potential, this exacting machine is the craftperson?s most dependable tool.


Pfaff Ambition 630

Pfaff Ambition 630 Discover the difference of sophisticated elegance with the quilt ambition? 630 sewing machine. Unrivalled precision and commanding innovation come standard.


Pfaff Creative 3.0

Creative 3.0



Out of Stock
Pfaff Creative Grand Quilter Hoop
Out of Stock
Pfaff Creative Icon

Pfaff Creative Icon Our most advanced machine combines our legacy of maximum precision with every best-in-class feature you demand. The result is a feat of technological excellence destined to exceed the aspirations of today?s sewing, quilting and embroi


Pfaff Creative Stylist MN 110

Pfaff Creative Stylist MN 110 Embroidering large projects or a large quantity of projects is easier and faster with the intuitive creative stylist?MN 110 multi-needle machine.


Pfaff Expression 710

Pfaff Expression 710 Sophisticated elegance is ensured by over 155 years of commanding German heritage and ingenuity. PFAFF? expression? sewing machines offer refined technology and impressive results. Harness the versatility and precision integral to th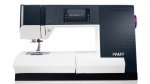 Pfaff Expression 720

Expression 720 Elegant functionality is delivered with poise and precision by the exciting quilt expression? 720 sewing machine. Discover the depth and harness the artful ability of this sophisticated and robust machine.


Pfaff Passport 2.0

Passport 2.0 Imagine a sewing machine compact enough to whisk away to a sewing class or fit on your bookshelf. Now, imagine this same machine is chock-full of features designed to meet the high demands of the PFAFF? sewer. The passport? 2.0 sewing machin


Pfaff Passport 3.0

Pfaff Passport 3.0 Imagine a sewing machine compact enough to whisk away to a sewing class, or fit in your bookshelf. Now, imagine this same machine is chock-full of features designed to meet the high demands of the PFAFF? sewer. The PFAFF? passport? 3.0


Pfaff Performance Icon

Pfaff Performance Icon Inspired by German heritage, the PFAFF? performance icon? sewing machine represents everything you?ve come to value from PFAFF??a comprehensive and innovative sewing experience that truly delivers to your highest expectation. For


Pfaff Seam Guide Foot
Pfaff Creative 1.5

Creative 1.5


Pfaff Creative 4.5

Creative 4.5