Classes

---
Log Cabin Table Topper
June 8th
9-12




Learn how to finish this with a curvy border and binding

.

---
Beginning Table Runner
June 16th
9-2

Use precuts to make this table runner.
---
Embroidery Beach Bag
June 23rd
9-2

We will be making the beach bag in class. You will receive all the digitized patterns for what is pictured. There are 32 embroidery blocks in this bag that you will need to complete at home before class. We will be assembling the bag in class.
---
2 Fabric Bargello
June 30th
9-2
This technique does not require thousand of pieces. You will need 1 Ombre fabric and 1 focal fabric. This is all about making tubes, cutting in the correct place and keeping things in order. Class fee is $35.00.
---
Project Preview Party
July 7th
10-2
This is your opportunity to see finished samples for the classes we have planned, July - December 2018. You can talk to the teachers and sign up for classes. We will have snacks and in store specials during this event too!
---
Grab Bag Mystery
July 7th
8 fat eights will be provided in a brown paper bag, you can add one fabric of your choice. You must use all 8 colors in the bag to come up with your own design no larger then 36 x 36. Can be a wallhanging or article such as a bag, placemats, table runner, etc. Bring your finished project back to the store by October 31st, it will be put on display the month of November, and voted on by customers for a 1st, 2nd and 3rd place winner. The bag will cost $10.00 and when you bring your finished project in for display you will receive a $10.00 credit to be used in the store!!!
---
Fun with Drunkards Path
July 14
9-12
Learn to make the Drunkards path with a special foot and how laying it out will give you different effects. Marie is the teacher for this class.
---
Window Pane Table Topper
July 21st
9-12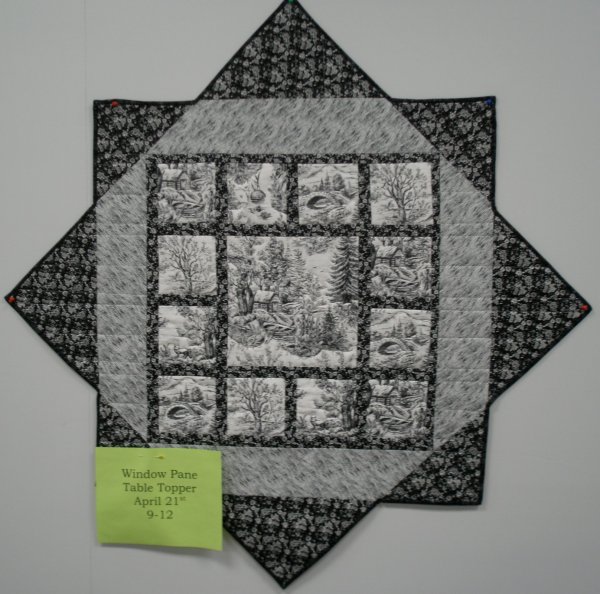 Use a panel or fun fabric to fussy cut out views for you window pane. Binding is the trick on this topper. Marie is the teacher

---
Pin Cushion Organizer
August 4th
9-3

This would be handy on by your sewing machine. A place to put trash, scissors and small tools plus pins! Sue will help you make this.

---


Classes need to be paid for at the time of registration.

All classes

are on the website if you want to see what else is coming up!
Quilter's Yard
722 N. Washington St.
Junction City, KS 66441
785-307-0774
www.quiltersyard.com