February 4th
9am to 3pm


The kit is included in the class fee and will include all the fabrics for the top and pattern. Hoffman is making the kits using their Batiks, everything is pre-cut and fused ready to sew. The background is also a Hoffman fabric called Super Nova.


---

When Summer Ends Paper Piecing Retreat
March 3rd, 4th and 5th
Sew Cozy Retreat is Wakefield,KS

Only one opening left for this retreat. We will be using BeColourfuls pattern When Summer Ends. I say paper piecing is a beginning project because you have a line to sew one. Come join the fun and sew all night if you can stay up that late. Meals are included in the price.

---
Bench Pillow of the Month
January 21st
9:00am to 12pm

Every month we make a bench pillow using design by KimberBell. This month we will be doing Be My Valentin. Finished size is 16 x 38 inches and would look great on a bed, couch or bench to add holiday spirit to your house.


---
UFO Sew Night
January 21st
1:00pm to 9:00pm

Have a project you want to work on. Join us at the store, we have long tables, extra large iron boards and room to spread out plus help if you need it. Tables are limited and you will need to preregister for the class.


---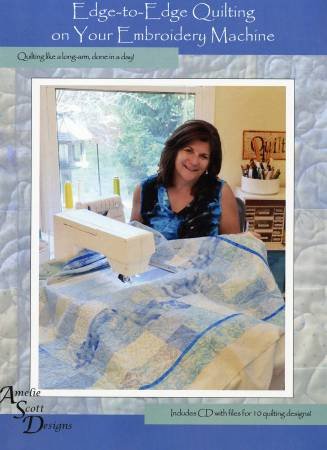 Edge to Edge Quilting with your Embroidery Machine
January 14th
9am to 3pm

Shari will show you how to use the Amelie Scott Designs to quilt your own quilts with an edge to edge design.


---

Calendar Scrap Quilt
January 28th
9am to 12pm

This will be a 6 month class meeting on the 4th Saturday of the month. There will be homework between the meetings. 12 holiday blocks and additional connecting blocks in the Irish Chain Style. This is a good class for beginners and up.


---

Charmed Adventure Embroidery BOM
Starts January 20th

This is a 10 month class and we will meet on the 3rd Friday of the month. We will run 2 sessions 12:30pm to 4pm or 5:30pm to 8:00pm. This is a quilt created in the hoop of your embroidery machine. Piecing and quilting are in the hoop. This is also an excellent class to learn how to use your embroidery machine.


---
Classes need to be paid for at the time of registration.



Quilter's Yard
722 N. Washington St.
Junction City, KS 66441
785-307-0774